Afinia H+1 3D Printer with 1-year limited warranty (33359)
The Afinia H+1 3D printer combines a large build volume with consistency of performance. Material-specific print-heads are included, ensuring optimal print quality and compatibility across a wide range of filament types.

Material-specific printhead system for optimal quality and compatibility
Circulating dual-filtered system
Automated leveling and height sensing
2-sided interchangeable build plates
Power loss print recovery filament run-out detection
Customizable temperature controls & filament profiles
Print queue for auto job management
Large build volume (10x8x8.8 inches)
Enclosed, heated platform & chamber
Smart support material technology
Multiple connectivity options (WiFi, USB, LAN, & USB Flash Drive)
Out-of-the-Box 3D Printing

The Afinia H-Series 3D Printers provide a true "Out-of-the-Box 3D Printing Experience" as the 3D Printers comes fully assembled with easy-to-install software for both the PC and Mac.
Improved Material Compatibility

The Afinia H+1 comes with three material-specific printheads: ABS, PLA, and TPU. In contrast to the one-size-fits-all extruder, these interchangeable heads are designed specifically for each material's characteristics, allowing for greater filament control and a better finish.


Full metal printhead tailored to high temperature material
•ABS, ABS+
•ASA
•PETG
•Polycarbonate
•Polypropylene
•Nylon
•Carbon Fiber filled depends on base material


Effective cooling system and PTFE feed path tailored to low temperature material
•PLA
•Metal Filled PLA
•Wood Filled PLA
•Carbon Fiber filled depends on the base material


Spring loaded feed path, double gear, PTFE feed path and larger nozzle size tailored to flexible material
•TPU and flexible filament

A selection of included nozzles offers even more control and quality. Print profiles and resolutions are optimized for certain nozzle sizes. H+1 nozzle sizes and resolutions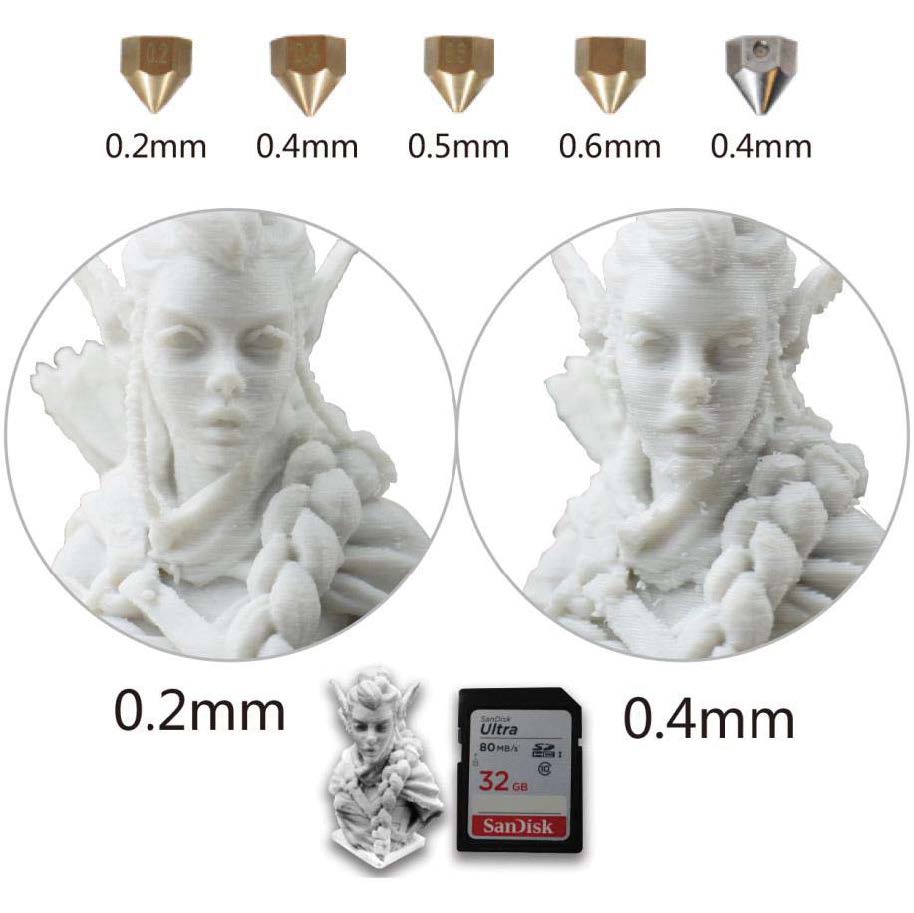 Better ABS Print Quality
ABS, known for its toughness and impact resistance, allows you to print durable parts that will hold up to extra usage and wear. Because of these characteristics, ABS material has been a favorite 3D printing material for engineers. However, due to its sensitivity to environmental conditions and smell, it is is often difficult to use with desktop 3D printers.
Afinia's comprehensive solution for better ABS printing comes down to three important things:

Better ABS material
Software-driven improvements to print raft and print support
Hardware features related to heating, platform materials, and air filtration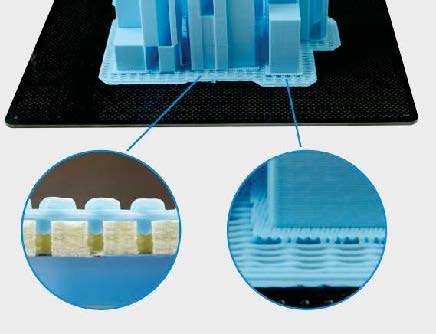 Improved ABS raft
Circulating Filtered Chamber

The H+1 has a large HEPA and separate Activated Carbon filter for ultimate air filtration. The H+1 uses a centrifugal fan to constantly circulate and purify air within the enclosure through both filters. Higher airflow capacity maintains minimal UFP and VOC density inside the printer.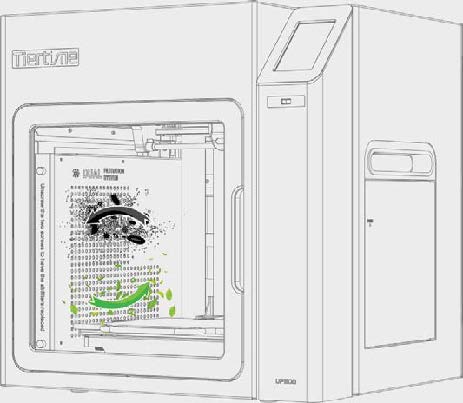 Circulated air chamber with HEPA and Activated Charcoal air filters
Easy to Use, Powerful Software
The 3D Printer Software features an easy-to-use interface for laying out, orienting, duplicating, and scaling parts. Simply use the included utility to calibrate the printhead height, and within minutes you are printing. It easily imports STL files, and the output can be customized in terms of the amount of support material and "raft" (base support) printed. Break-away support material is simple to remove, and tools for aiding the break-away are included. Design files for 3D printing can be created using online software, professional software such as SolidWorks™, or by downloading from the extensive online 3D printer community for free.
Specifications
Build Volume

10″ W x 8″ D x 8.8″ H(255 x 205 x 225mm)

HD Print Quality

0.05mm (100 micron), 0.1 mm, 0.15 mm, 0.2mm, 0.25mm, 0.3mm, 0.35mm, 0.4mm

Smart Support

Support material automatically created by 3D printing software

Safety

Built-in HEPA and activated carbon filters remove microfine particles

Display

4.3″ full-color touchscreen LCD

File Formats

.stl, .obj, .3mf, .up3, .ups, .ply, .off, .3ds, .gcode

Dimensions

19.6″ W x 18.1″ D x 20.5″ H(460 x 500 x 523mm)

Weight
90 lbs

Power
110-220VAC, 50-60Hz, 220W;With power loss print recover
Connectivity
WIFI, USB, USB Flash Drive, LAN (with ability to disconnect from computer when print job starts
Materials
1.75mm ABS, PLA, TPU, PC, PETG, or Flexible Filament; With filament run-out protection(included: 1 x 500g spool of filament)