MakerBot Method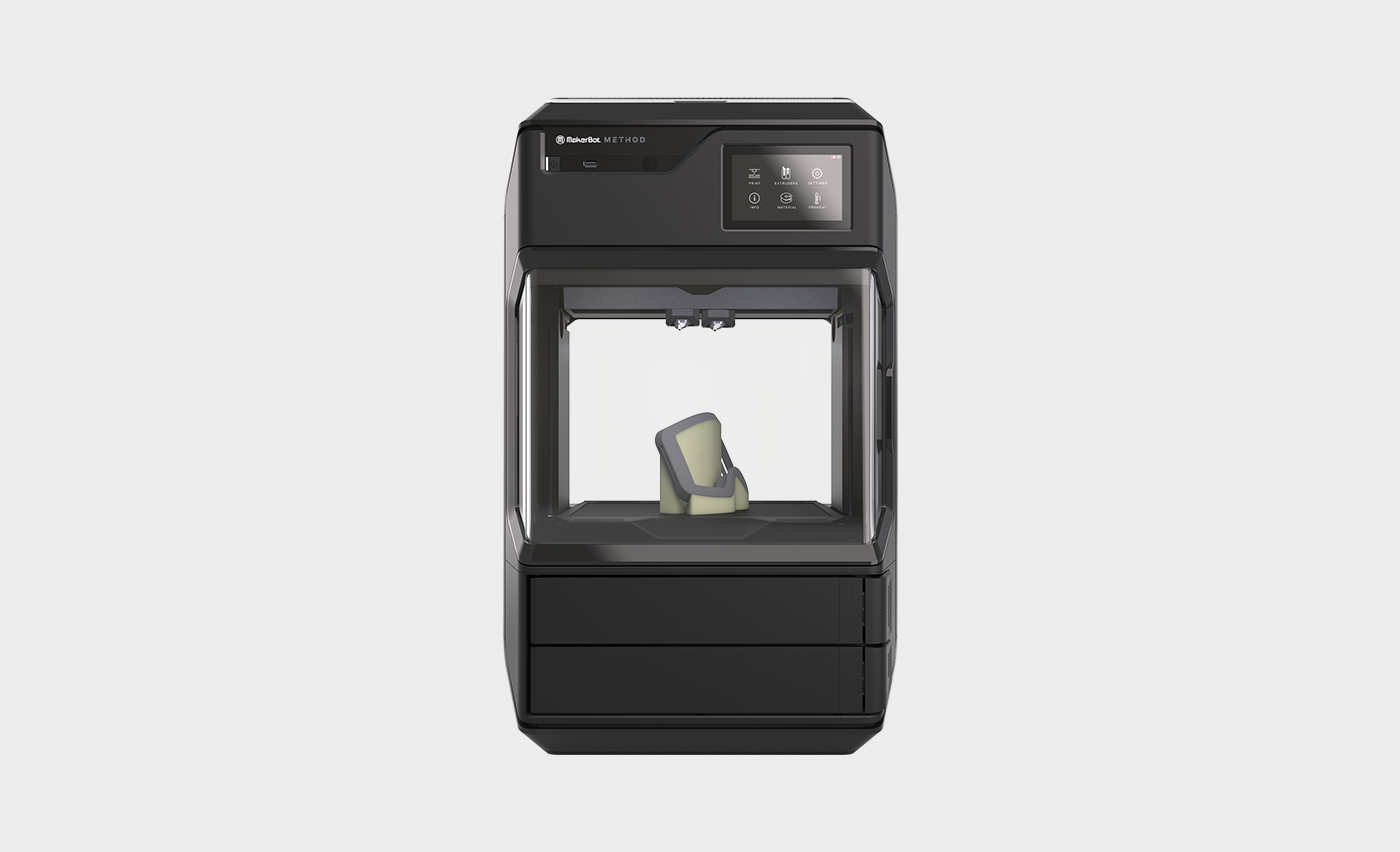 MakerBot Method
The First Performance 3D Printer
Bridging the gap between industrial and desktop 3D printing.
- Match design dimensions.
- Up to 2x faster than desktop 3D printers.


Industrial Reliability + Precision
● Match design dimensions
● Dimensional accuracy of ±0.2mm*

Fastest CAD to Part
● Up to 2x faster than desktop 3D printers**
● Seamless printing workflow

Maximum Innovation + Minimal Investment
● About ⅓ the first-year cost of ownership of an entry-level industrial 3D printer with no technician required
● Accelerate your design process and reduce risk while reclaiming time and money Industrial DNA. Desktop Accessibility.

Match design dimensions.
● Vertical Layer Uniformity provides smooth surfaces
● Dimensional Accuracy of ± 0.2mm*
● Tight Cylindricity Tolerance
● Pristine, environmentally-controlled PVA
● Complex overhangs without scarring


Features
Ultra-Rigid Metal Frame Construction
A structurally-optimized metal frame runs the full length of the body to offset flexing.
Less flexing means more consistent prints with better part accuracy and fewer failures.

Circulating Heated Chamber
Control the temperature and quality of every layer—not just the first. While heated build plates are effective at reducing warping, Method takes this further with full active heat
immersion during the entire duration of the print.

Dual Performance Extruders
The Dual Performance Extruder system is built from the ground up to accelerate print times and produce precise parts.

Dry-Sealed Material Bays
Dry-Sealed Material Bays form a near-perfect seal to keep material free of damaging humidity. A suite of built-in sensors provides that your material is stored in its optimal
environment—a feature previously only available in industrial 3D printers.

Unrestricted Geometric Freedom
Dissolvable Support System 1-2
Superior surface finish and unrestricted geometric freedom are paramount to delivering high quality printed parts. MakerBot's Precision Dissolving PVA enables fast and easy
support removal without compromising part design or dimensional accuracy.
Precision Dissolving PVA provides two key benefits:
● Unrestricted geometric freedom (large overhangs, cavities, etc)
● Superior print quality and surface finish
MakerBot Method Performance 3D Printer purchase includes.

MakerBot Method 3D Printer, Spring Steel Build Plate, 1 Spool of Tough Precision Model
Material, 1 Spool of PVA Precision Support Material, 1 Performance Extruder 1 Model, 1
Performance Extruder 2 Support, 1 Nozzle Brush, 1 Hex Key, 1 USB A-to-B Cable, 1 US
Power Cord, 1 EU Power Cord